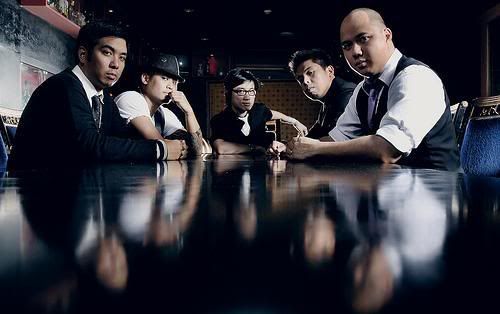 Despite being relatively new to the scene, Angulo has consistently been winning raves and praise from their veteran peers in the band scene over the last 2 years for their intense sets, their jarringly hypnotic rock sound, and their unforgettable progressions, arrangements, lyrics and melodies. Bands as diverse as Urbandub, Chicosci, Sponge Cola, & Sandwich have asked the band to open for them regularly, signifying the trust and belief that these more-experienced bands have for them.
Aside from winning over the approval of scores of college and high school kids around the Metro, as demonstrated by the number of school gigs over the past year, they have also been staples for harder-edged Pulp Magazine events such as Summer Slam, Fete de la Musique, and the World Battle of the Bands, showing that their music is widely accepted by various sectors.
Angulo has also built a loyal core of fans through good ol' fashioned hard work, non-stop practices, gigs and performances, online marketing, and a positive and goal-oriented attitude, and they believe that with the release of their debut album, they are ready for the mainstream.
The five members of Angulo, along with producer and engineer Pat Jalbuena of Kerplunk! Studios and co-producer Gabby Alipe of Urbandub, have completed their debut album, Blur the White Lines. It is a collection of 12 tracks that traverse a journey of emotions. From loneliness and love, to rebirth and redemption.
The carrier single, The Best Mistake, has already won the hearts of many in the online community and steadily rose up the NU107 Stairway to Seven daily countdown. It stayed at the no.1 position almost everyday for four weeks.

Music video shooting for the 2nd single, F.L.S., has finished, with established music video directors Greg Garcia & Pancho Esguerra (Bamboo, Urbandub, Sandwich, Ciudad, Sponge Cola) at the helm. Premiere date is on May 16, 2008.
Angulo has recently been chosen to open for New Jersey-based post-hardcore pioneers Thursday on May 30-31, 2008, for the Philippine stop of their tour. (source: Angulo Official Myspace Site)
If you like Urbandub and Diecast, you might wanna give this band a listen.
Band Official Website
Angulo Official Myspace Site

Angulo - FLS